Frequently Asked Questions
These answers to Frequently Asked Questions regarding the proposed Louisiana International Terminal are provided as part of Port NOLA's commitment to a public process. This page will be updated as the project progresses and more information becomes available. For more information email LITinfo@portnola.com.
Last Updated: July 28, 2021
Project Background
Maritime commerce at the Port of New Orleans, a Louisiana state agency, generates thousands of jobs and millions of dollars for the state and the regional economy each year. To support our state-mandated economic mission, Port NOLA is exploring the development of an international container terminal in Violet in St. Bernard Parish that will meet growing demand while creating more local jobs and business opportunity.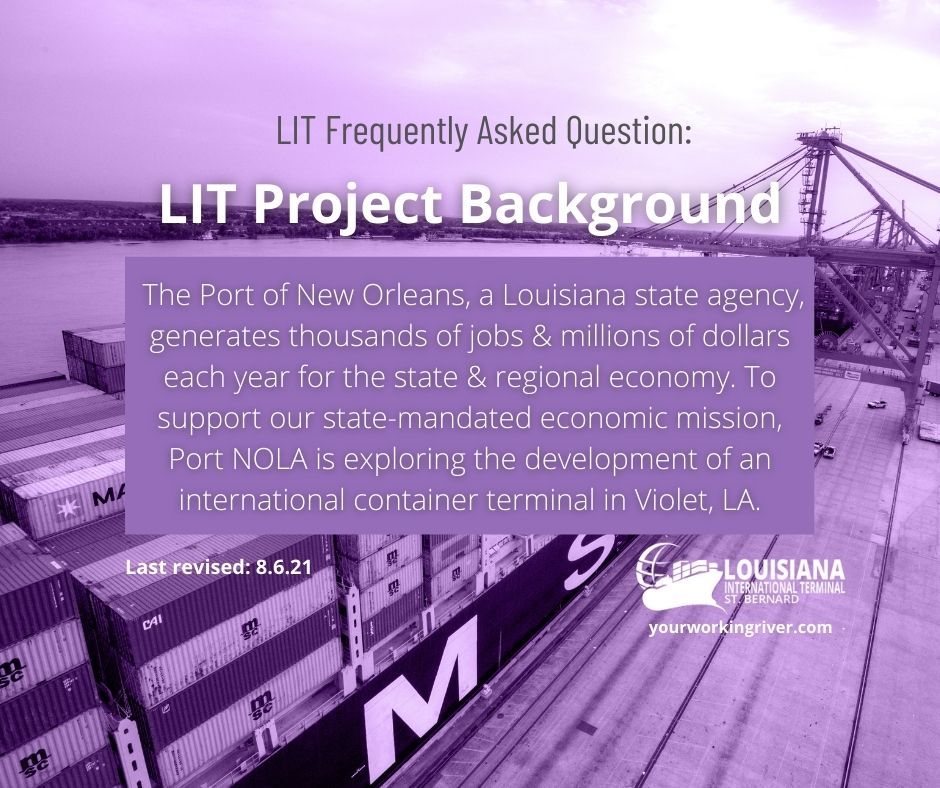 Why are you considering a container terminal in St.Bernard?
The Port of New Orleans is Louisiana's only international container port. In the past 10 years, container volumes have doubled, with double-digit increases in 2018 and 2019, and all evidence shows momentum will continue. To meet demand, create new opportunity for the Parish and region, and to ensure Louisiana remains competitive, we need an additional terminal.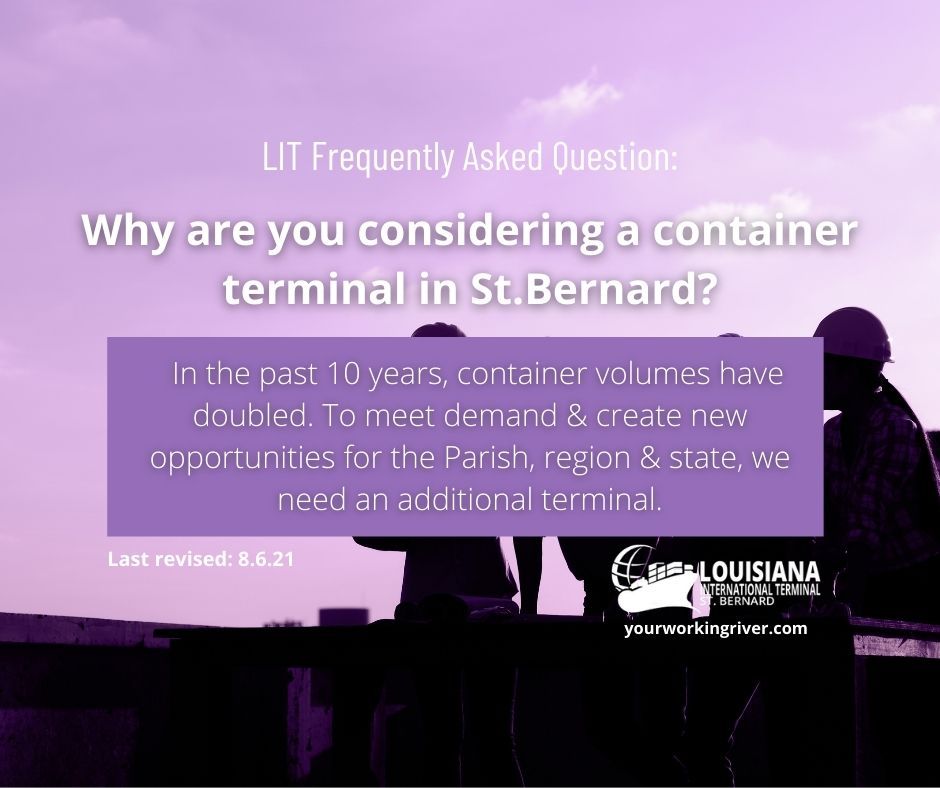 What land has been purchased?
At this time, Port NOLA anticipates using approximately 350 acres for the Louisiana International Terminal and related infrastructure – the design process will give greater certainty. The remaining property will support new cargo-related and other businesses, including offices, e-commerce fulfillment centers, warehouses, and a training center. Green buffer areas and other physical enhancements as determined by inclusive neighborhood input will also be part of the plan.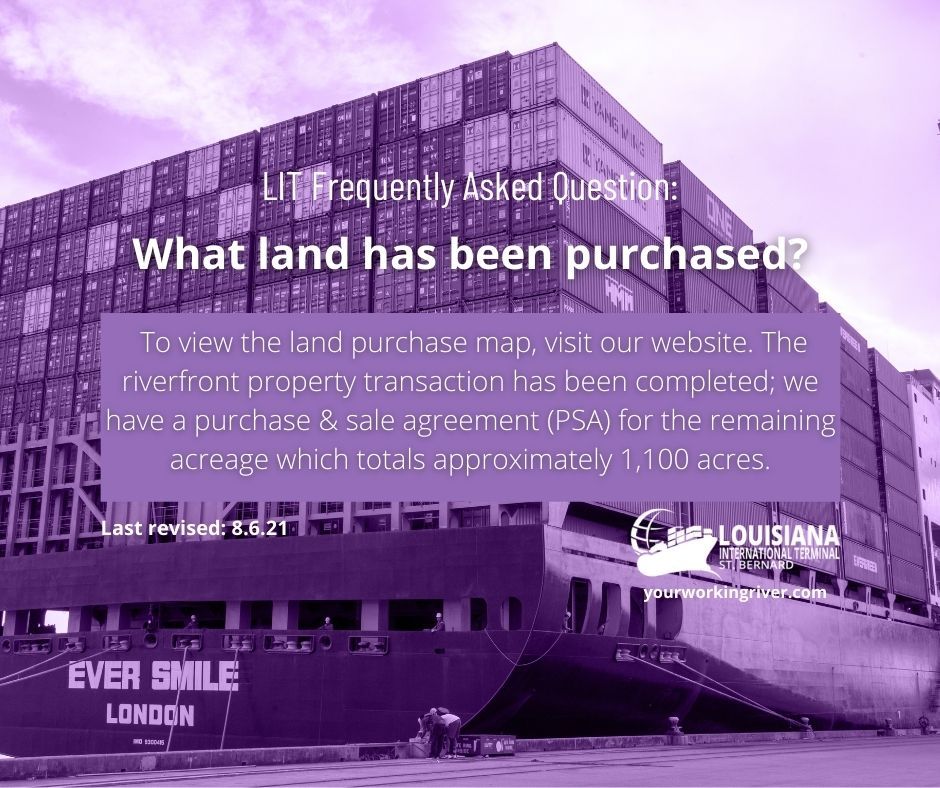 Where are you in the process?
We have started a multi-year due diligence and permitting process to fully explore the potential for developing a modern container terminal. The process includes detailed and mandated reviews of all aspects of the project and potential impacts. The Port will be issuing several requests for proposals for consultants to conduct the necessary studies to support the due diligence and permitting process in order to fully evaluate the necessary infrastructure, impacts and design appropriate mitigations.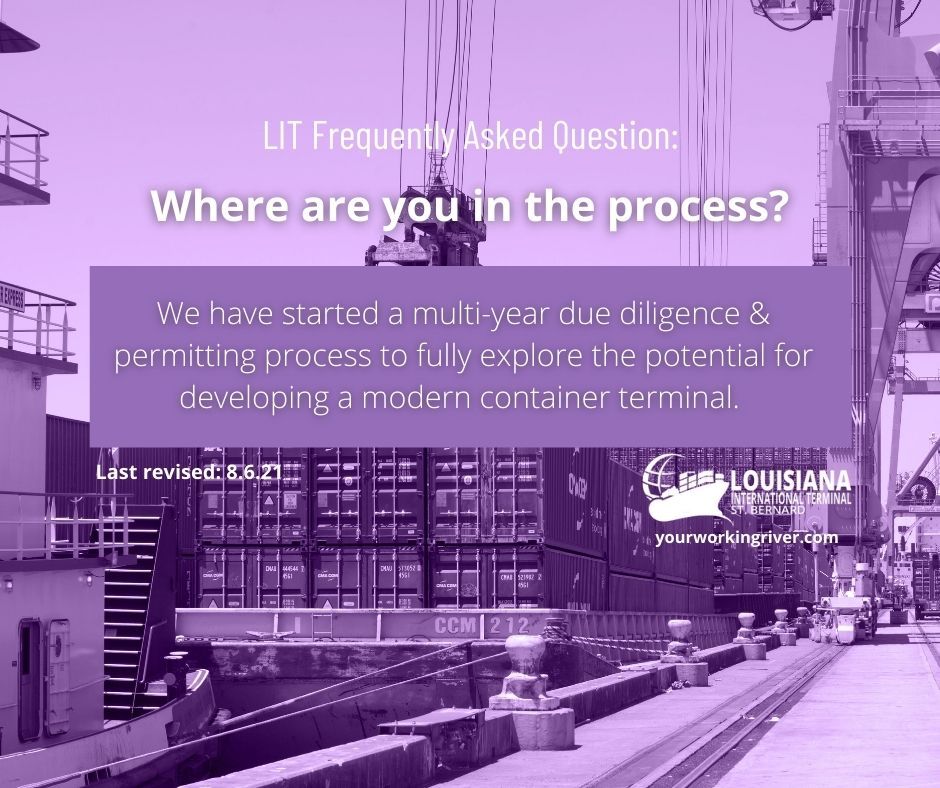 How will the community be engaged?
Port NOLA's goal is to understand community needs and concerns to develop a successful project that is respectful of the people, culture and traditions of St. Bernard Parish, and one that brings opportunity to its residents. The project is subject to a 2 to 4 year National Environmental Policy Act permitting process, which requires the Port to engage with the community, study potential environmental, technical, and quality of life concerns, then work proactively to address them.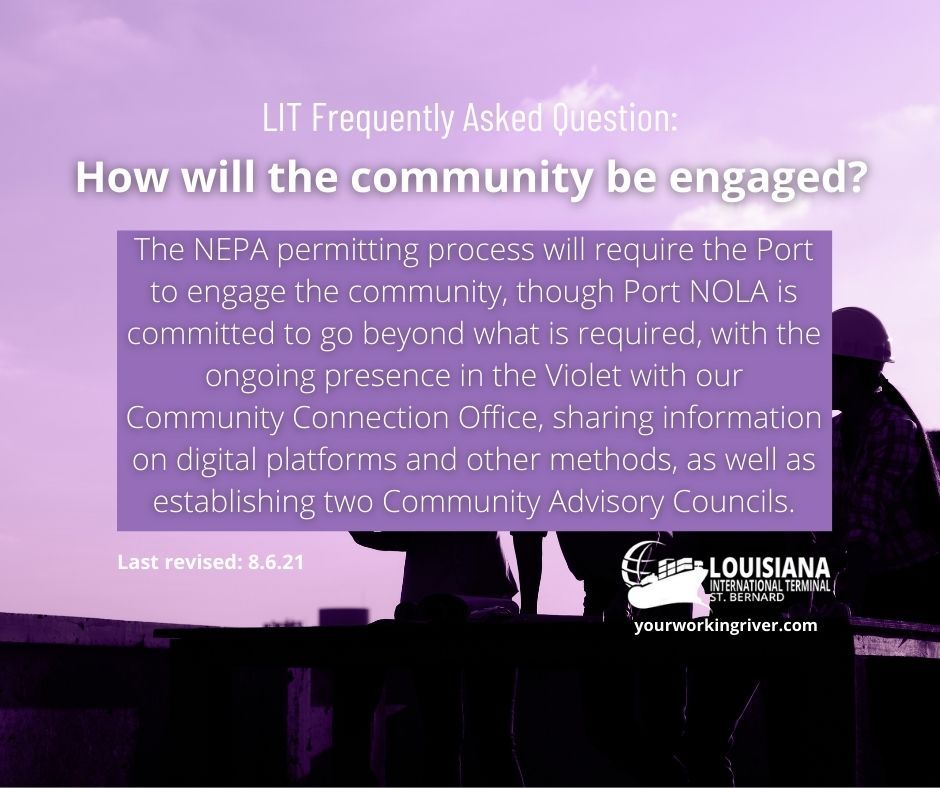 What is the intended use for the entirety of the property?
In addition to property along the riverfront, Port NOLA's purchase of approximately 1,000 acres in Violet referred to as "backlands property," can support distribution centers, value-added activity and logistics-related businesses. Port NOLA anticipates using approximately 350 acres for the actual terminal and related infrastructure. The additional acreage allows for enough to buffer nearby residential neighborhoods from terminal activity and also accommodate community-related projects.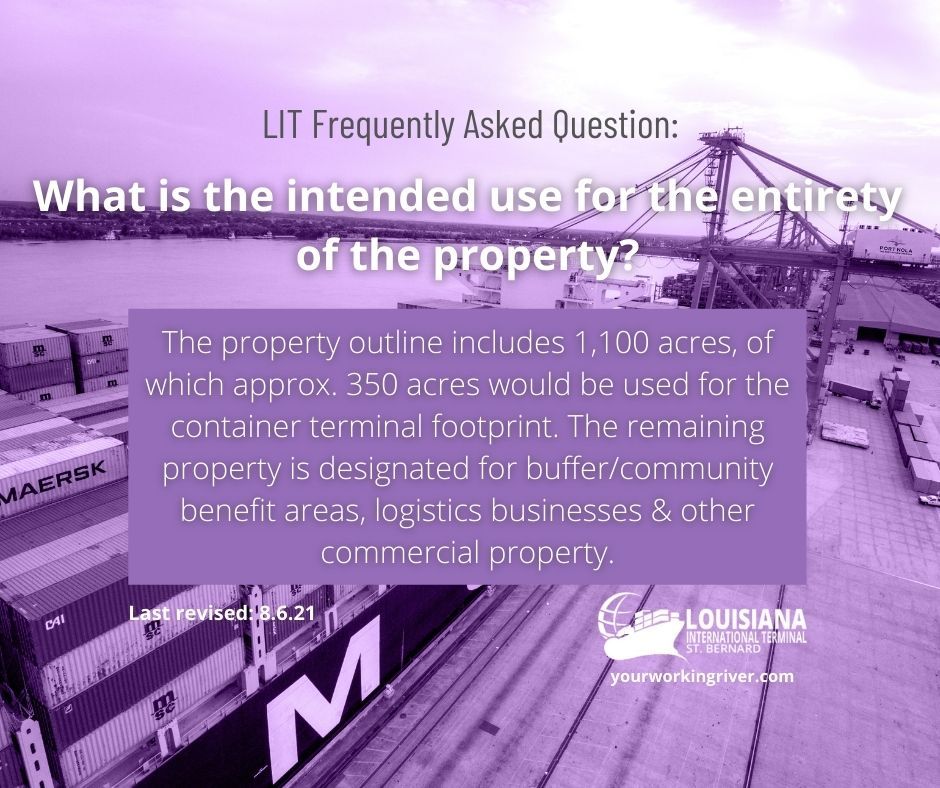 What role does the St. Bernard Port play in the development of LIT?
The St. Bernard Port and Port NOLA are working collaboratively on this endeavor. Both agencies have a shared mission of facilitating maritime commerce to grow the local economy. The St. Bernard Port continues to handle non-containerized cargo at their facilities, which requires different infrastructure from that needed to handle containers. St. Bernard Parish is located within Port NOLA's legal jurisdiction and has been fully engaged throughout the preliminary stages of this endeavor.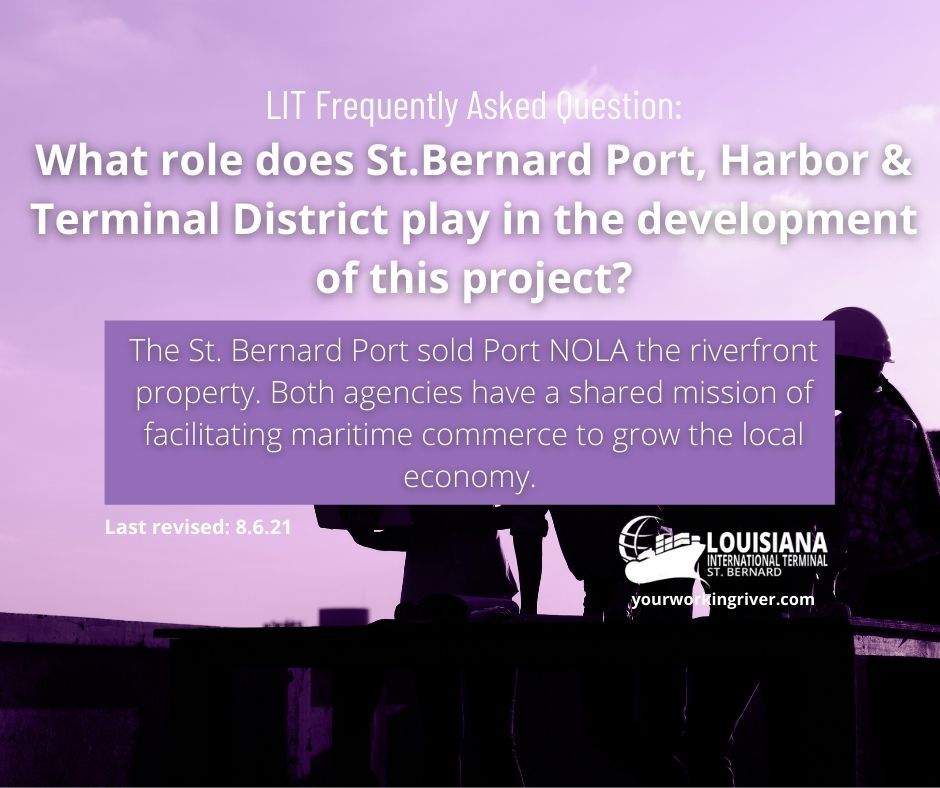 Will St. Bernard benefit from increased tax revenue from LIT?
As a state agency, Port NOLA is tax exempt and does not collect any millage to support its operations. However, Port NOLA is a landlord port and tenants who operate on and around the terminal will pay local and state sales taxes along with local property taxes. There will be significant investment by the private partner in business personal property such as buildings, facilities and equipment, which would generate upfront sales tax payments and ongoing property taxes for the parish.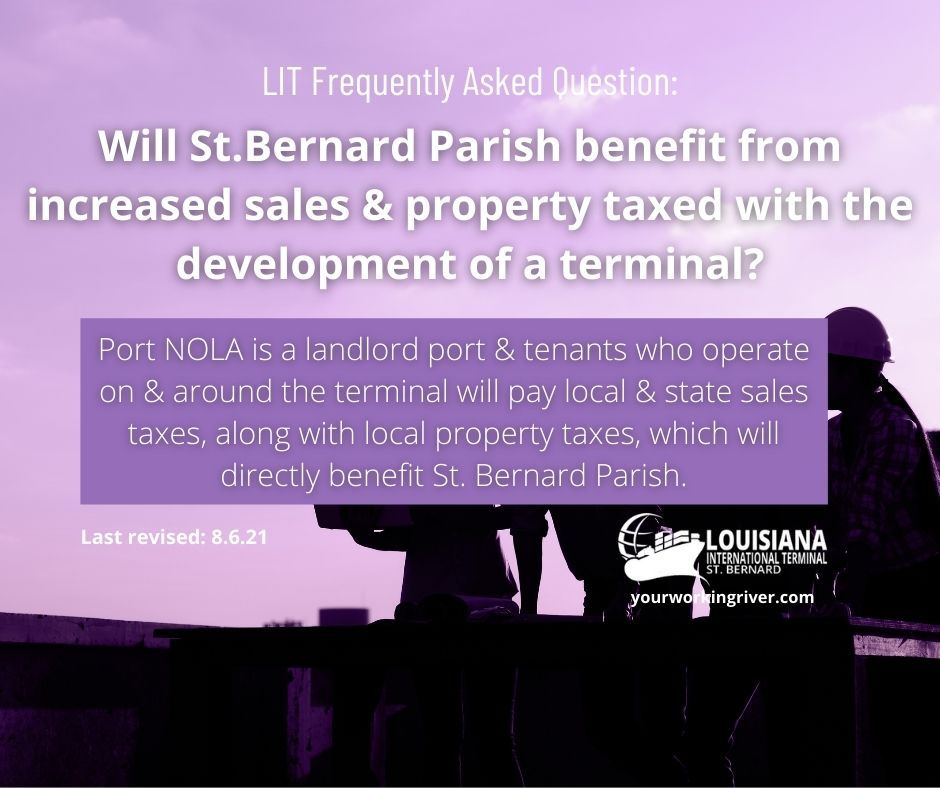 What types of jobs and how many would be created by LIT?
A new terminal will create many types of industry-related jobs, both on the terminal and at related companies near the terminal. At opening, LIT will generate an estimated 600 jobs in St. Bernard and within five years of operation, those jobs are projected to increase to more than 2,000 jobs in St Bernard. To view the full response, click download our full FAQs above.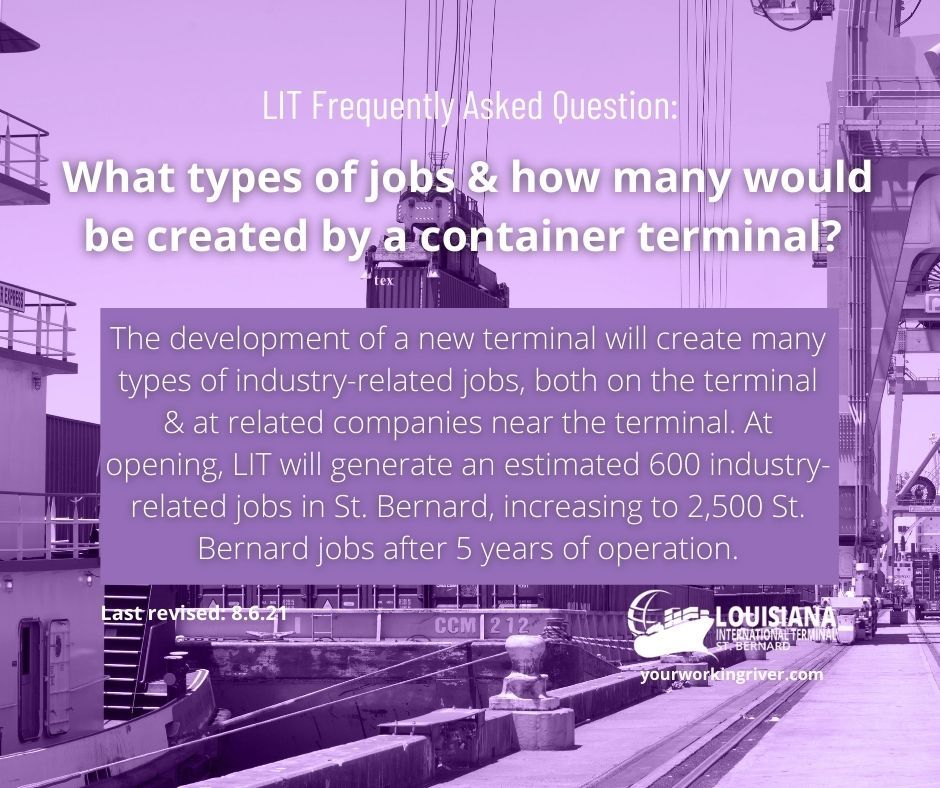 How will St. Bernard residents benefit from the new jobs LIT will create?
This terminal will create a wide range of union and non-union jobs at various skill levels. Appropriate training opportunities to ensure the local workforce and awareness of available jobs will be key to success. Port NOLA will partner local workforce partners on strategies to drive local workforce development programs and encourage local job hiring. To view the full response, click download our full FAQs above.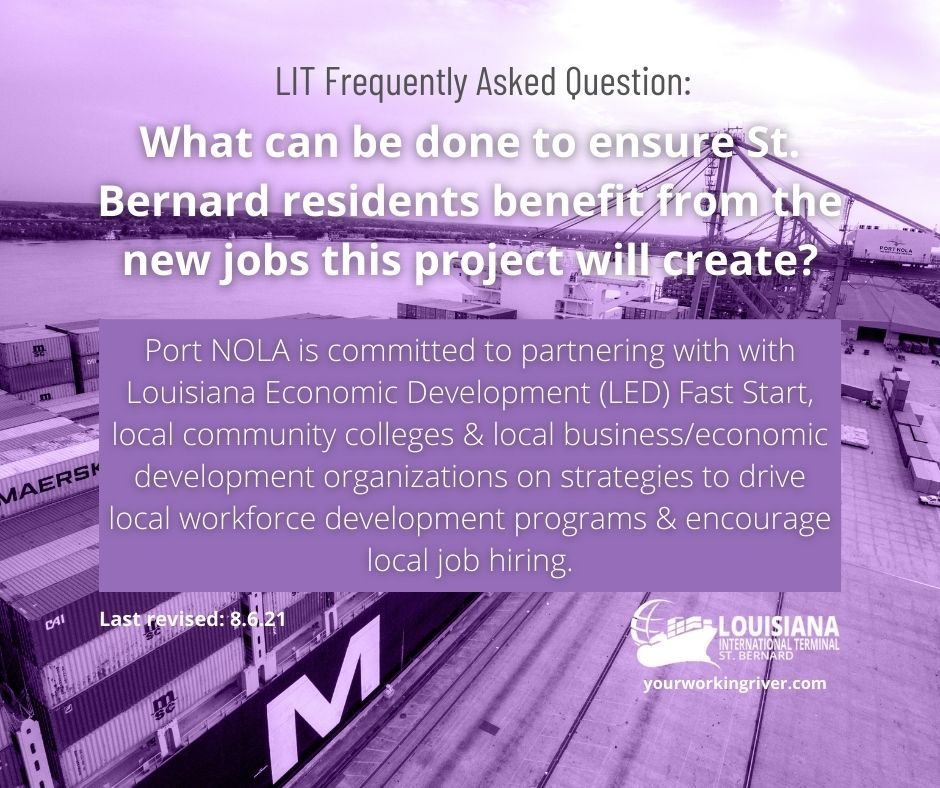 How will LIT impact vehicular and rail traffic?
Vehicular traffic study findings will inform the terminal's design and is an important element of the permitting process. Mitigation of potential impacts will require coordinated efforts of many agencies who are already aware of the project. Vehicular traffic mitigation includes potential roadway realignments with the goal of adding capacity in the area, adding access to individual Violet community neighborhoods, and transformational infrastructure investments throughout the Parish to support growth. To view the full response, click download our full FAQs above.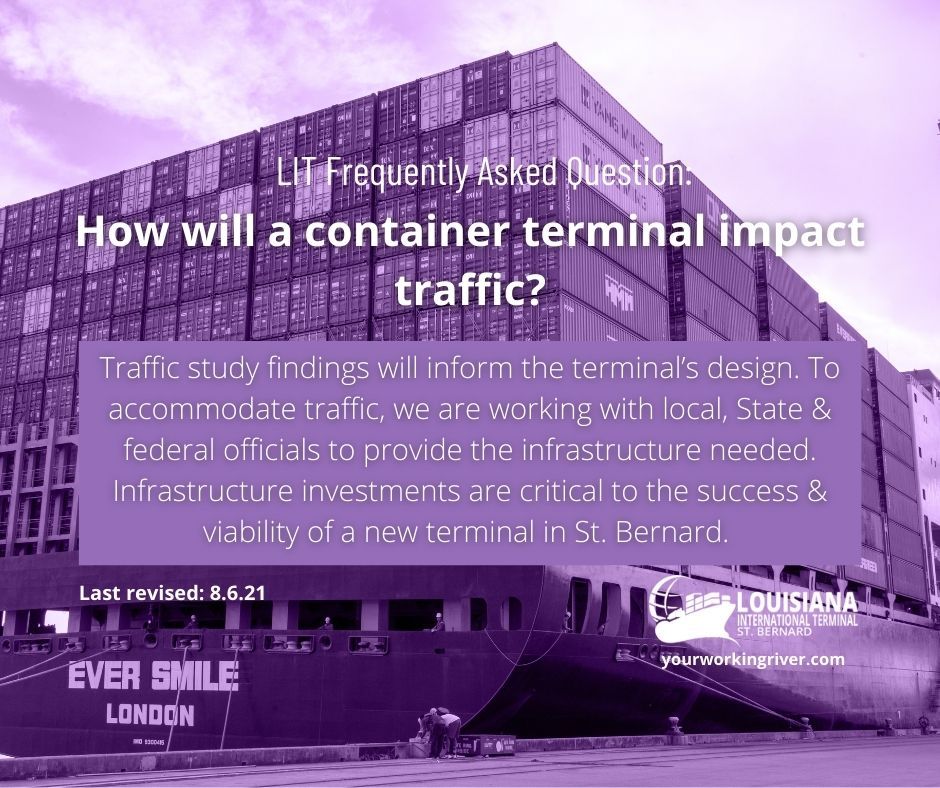 What will happen with the W. Smith Elementary, the ballpark & the cemetery?
All three are located within the likely terminal area. Port NOLA commits to working with the School Board for relocation of the school within the Violet community & current school district. Similarly, the ballpark would be relocated within the Violet community. The cemetery will remain at its current location. To view the full response, click download our full FAQs above.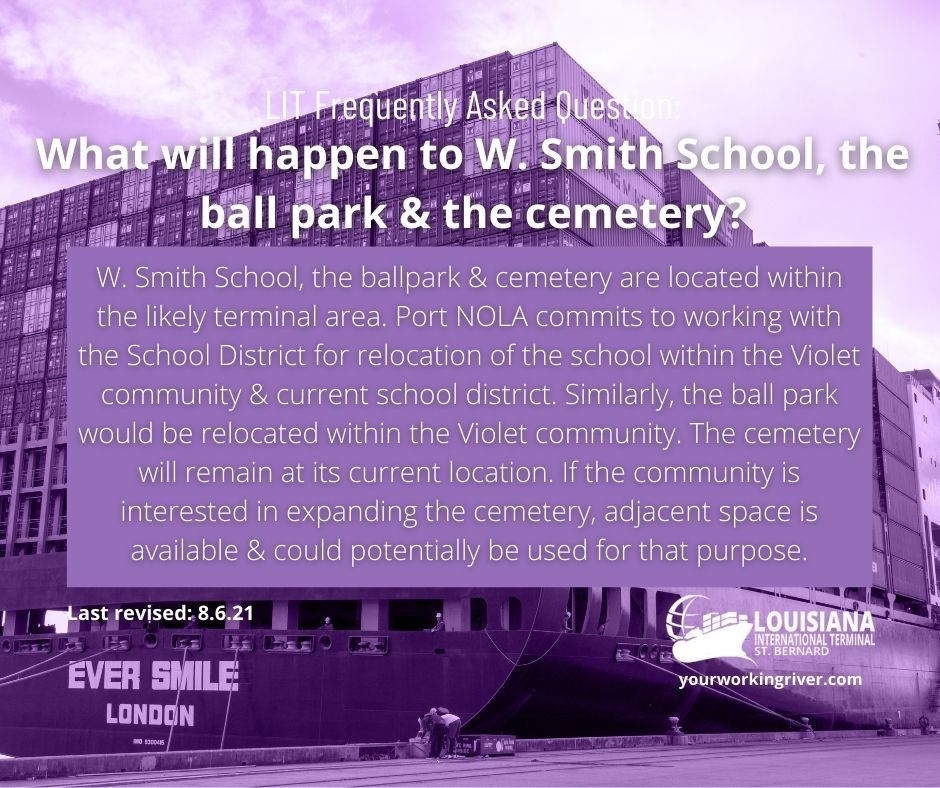 How do you plan to mitigate noise & other effects of terminal operations?
The acreage acquired for this property includes sufficient land to both accommodate a container terminal and incorporate buffers for nearby neighborhoods. The Port will benchmark the latest solutions to minimize sound and noise impact on neighbors. Additionally, the design process will incorporate landscaping and other buffers. To view the full response, click download our full FAQs above.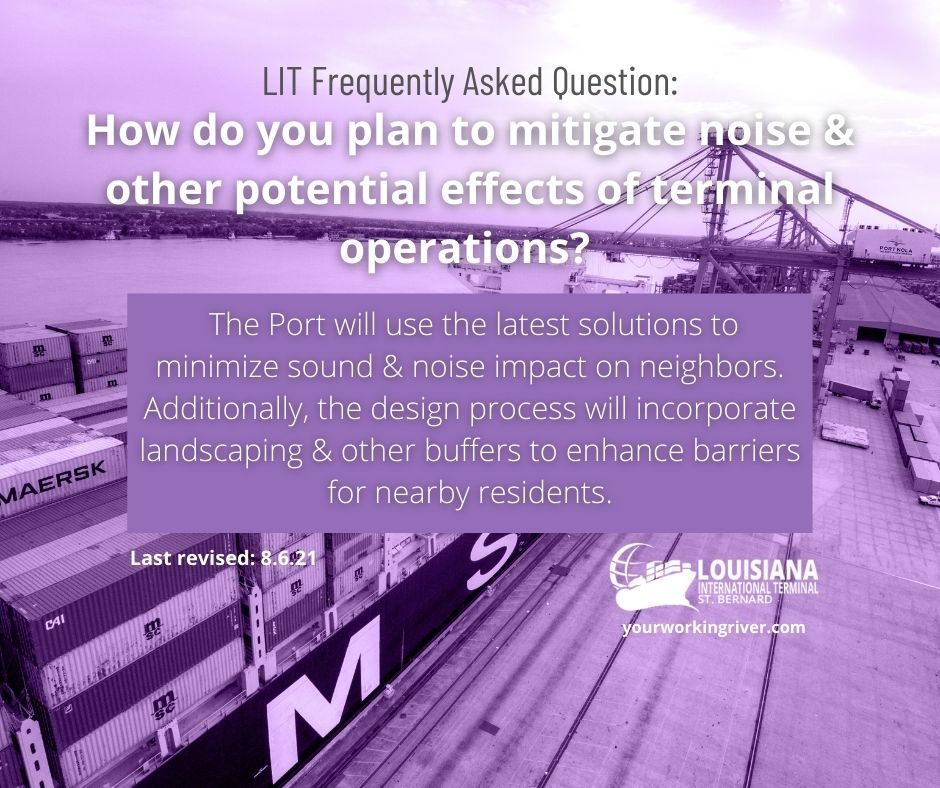 What does Port NOLA currently ship in containers?
A wide range of products, commodities, and agricultural items are moved around the world in containers. Port NOLA's primary containerized exports include plastic resins, paper products, and frozen poultry. Top container imports include coffee beans and manufactured items, such as furniture, electronics, textiles, medical equipment, and fresh fruit. To view the full response, click download our full FAQs above.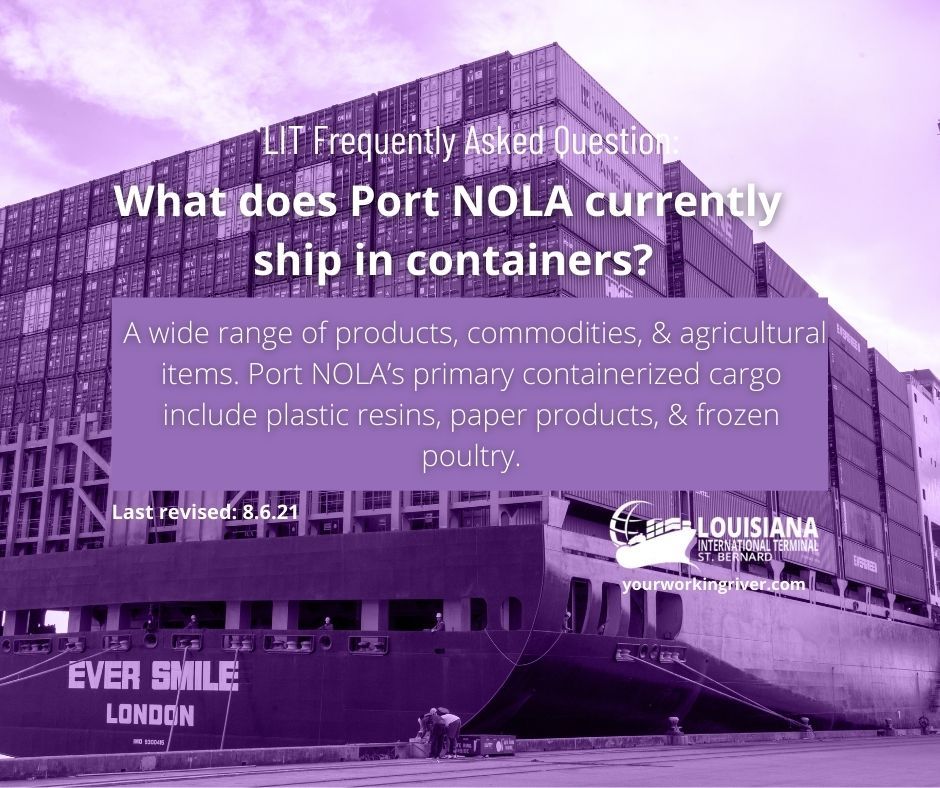 How safe is a container terminal from threats or other emergencies?
Container terminals are as secure as airports and the most secure maritime facilities because of the good and supplies vital to keep the national economy moving. Port NOLA is required to develop and have approved by the Department of Homeland Security and Coast Guard every year a Maritime Security facility plan. To view the full response, click download our full FAQs above.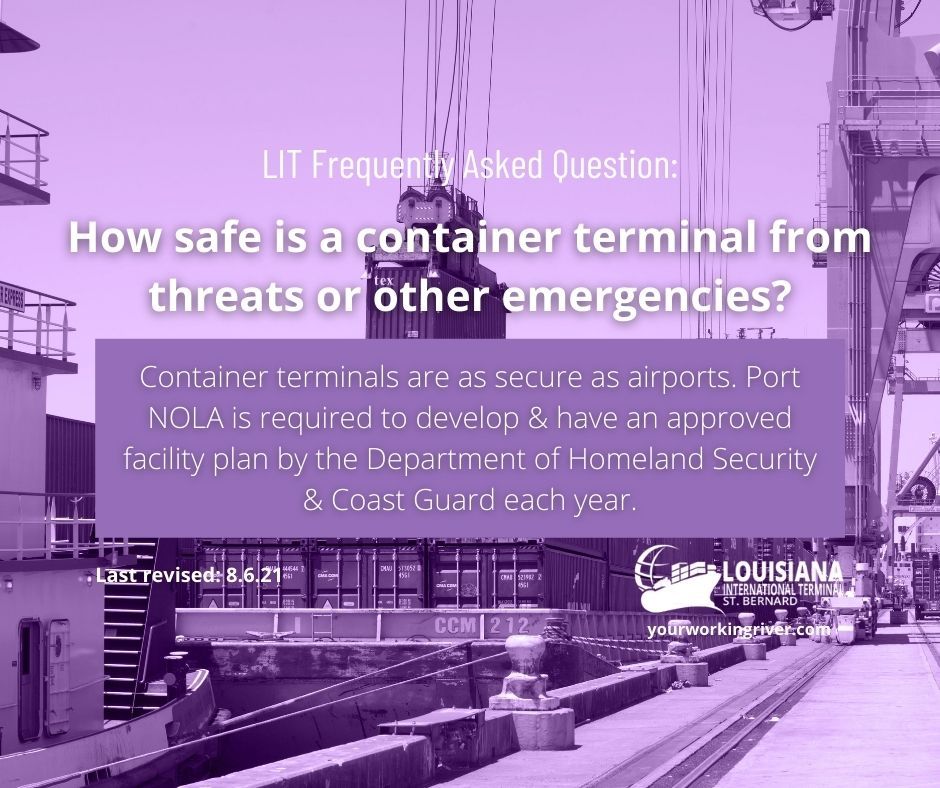 How will Port NOLA address environmental concerns?
The required permitting process for the development of a terminal includes an assessment of environmental issues along with potentially needed mitigation measures. Port NOLA will work with the appropriate regulatory agencies and community interests to identify and address potential impacts and will look for opportunities to incorporate newer cleaner technology.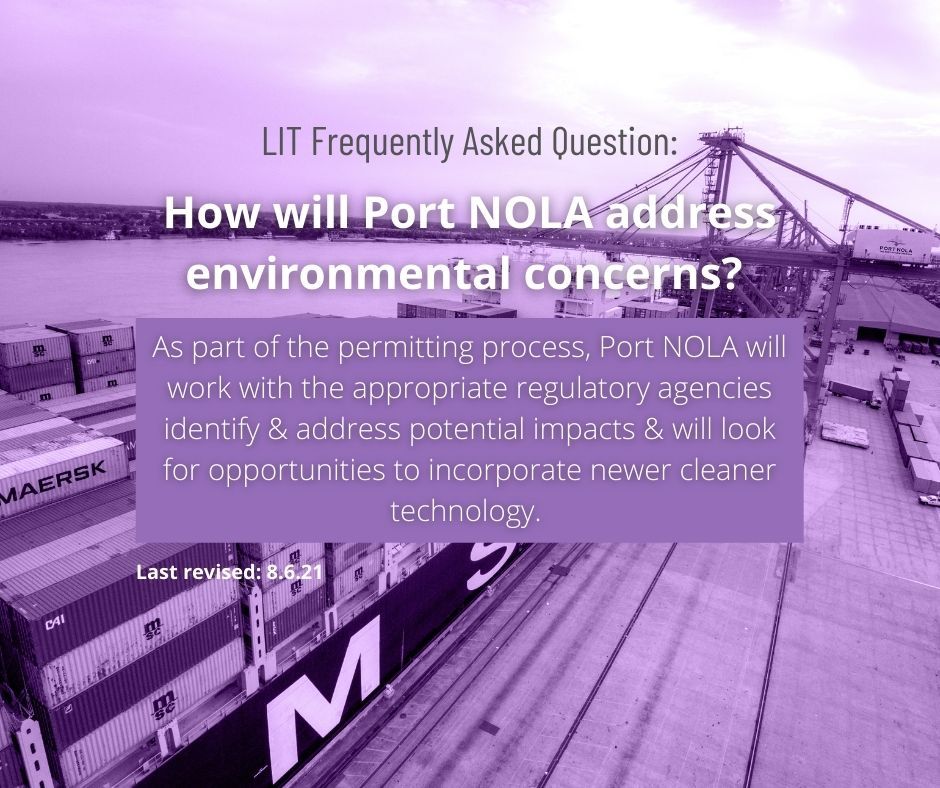 How can I learn more about the project?
Visit the proposed Louisiana International Terminal webpage at www.yourworkingriver.com to learn more and sign up for project updates. You can also visit the LIT Community Connection office, located at 6201 E. St. Bernard Hwy., Suite A, Violet, LA 70092 to meet with Port representatives and get information about the project.