NOPB and Port NOLA Secure EPA Grant for Eco-Locomotive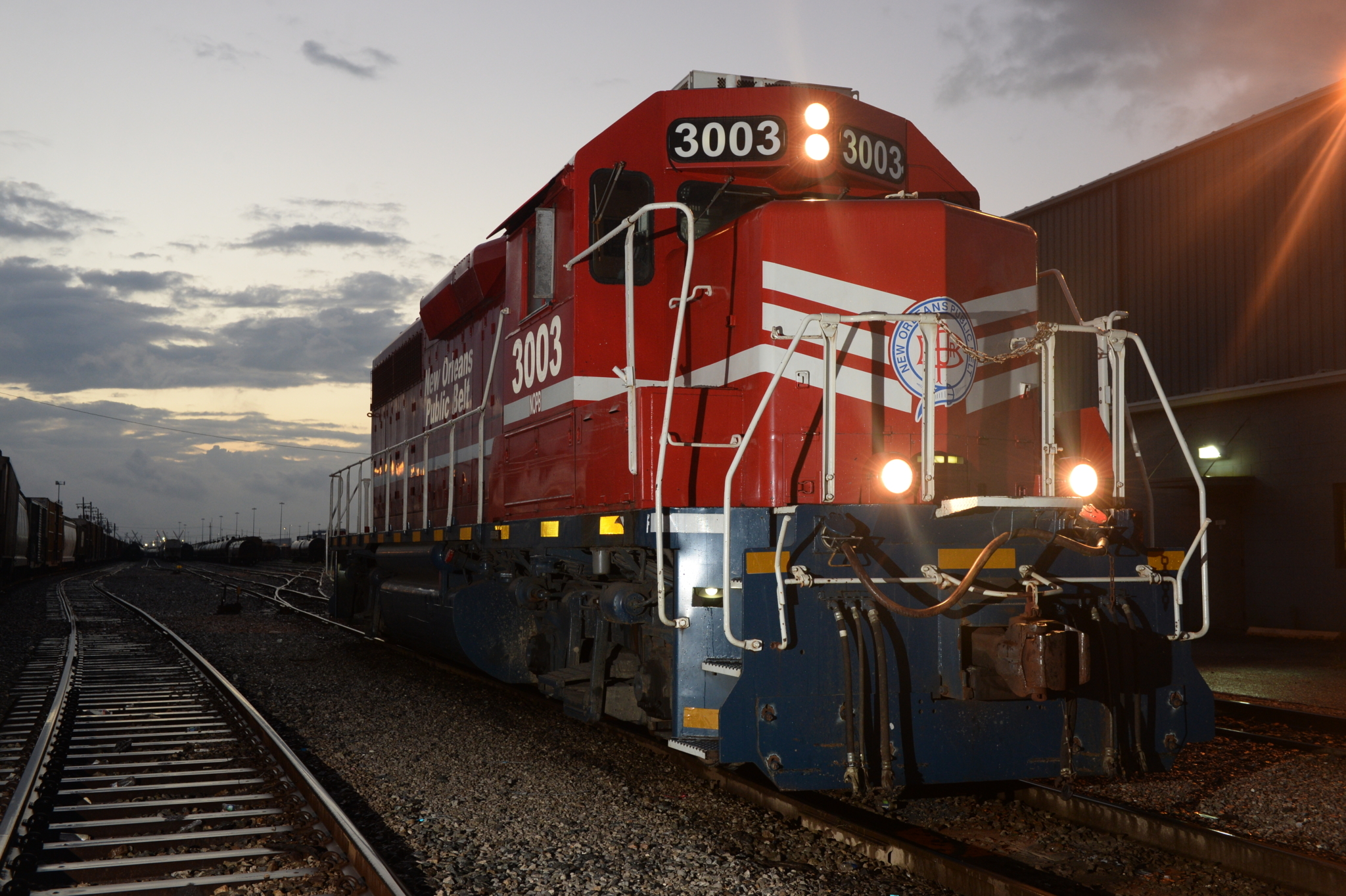 NEW ORLEANS — The Port of New Orleans and project partner, the New Orleans Public Belt Railroad (NOPB), were awarded a National Clean Diesel Funding grant from the United States Environmental Protection Agency. The EPA grant will provide 40% of total project cost, allowing NOPB to retrofit the engine of a conventional diesel locomotive to a cleaner engine with low emissions beyond current requirements. This will be the first locomotive of its kind in the New Orleans gateway.
This eco-locomotive will meet ultra-low emitting standards (Tier 4) and result in immediate air quality benefits such as reducing ozone precursors, diesel particulate matter, as well as fuel consumption and corresponding greenhouse gas emissions. It will boast a sleek new paint scheme with green accents. The retrofit of the locomotive will begin in Spring 2019, and once completed, will be officially dedicated for use on the NOPB system.
"EPA's clean diesel grants fund cleaner, more efficient transportation to help protect the environment and keep our economy growing," said EPA Regional Administrator Anne Idsal. "Port NOLA and NOPB's efforts to upgrade its locomotive fleet will contribute to improved air quality and benefit the New Orleans community."
The successful grant application was executed in partnership with the Port of New Orleans (Port NOLA). NOPB transitioned from the City of New Orleans to Port NOLA leadership February 1, 2018.
"With Port NOLA and NOPB now fully aligned, we are able to make strategic investments that provide air quality benefits for the community while providing superior service to our users and Class I partners," noted Brandy D. Christian, CEO of NOPB and President and CEO of Port NOLA. "Port NOLA's commitment to sustainability drove the decision to apply for this EPA grant and we look forward to seeing the eco-locomotive on our system."
NOPB and Port NOLA have each piloted other innovative emissions reduction initiatives, including the Port of New Orleans Clean Truck Replacement Incentive Program (Clean TRIP) and NOPB's locomotive idle reduction plan, as a part of their respective strategic plans. Now partners, they are working together to foster programs that address both the maritime and rail space.
The application for funding was supported by an extensive list of community groups, city officials, as well as member of the Louisiana Congressional delegation, including: Senator Bill Cassidy, Senator John Kennedy, Representative Cedric Richmond, and Representative Steve Scalise.
Please see below comments of support:
U.S. Senator Bill Cassidy, M.D.: "The Port of New Orleans is proving we can find solutions that utilize American energy to support Louisiana jobs while lowering emissions," said Dr. Cassidy. "This grant empowers these local solutions to global environmental needs."
U.S. Senator John Kennedy: "This project invests in one of Louisiana's greatest public resources. The Port of New Orleans is an economic engine that makes it possible for Louisiana to partner with countries around the world on trade. Investing in the port is always a wise move that supports jobs and Louisiana families."
U.S. Representative Cedric Richmond: "It is my pleasure to congratulate the New Orleans Public Belt and the Port of New Orleans for recently securing the EPA grant in an effort to foster a more environmentally conscious New Orleans," said Rep. Richmond. "The Port of New Orleans is one of the leading ports in America and reducing our carbon footprint is paramount to helping our families and
communities live longer, healthier lives. I look forward to more improvements to air quality safety from our critical infrastructure."
Tommy Clark, Commissioner, Office of Multimodal Commerce, LADOTD: "Louisiana's Office of Multimodal Commerce congratulates our multimodal partners, the NOPB and the Port, on receiving this important grant. An ultra-efficient low-emission locomotive is a clear demonstration of conscientious forethought and dedicated stewardship toward our fragile environment."
-END-
The New Orleans Public Belt Railroad (NOPB) is a Class III switching railroad with the primary mission of serving the Port of New Orleans and local industries. The NOPB is a neutral carrier, with direct connections to six (6) Class 1 Railroads, for which we play an important role in expediting local and intermediate freight through the strategic New Orleans rail gateway. The NOPB is a diversified company, with a full service car repair shop, locomotive shop, track maintenance and repair division, and railcar storage capabilities. For more information, visit: www.railnola.com.
Port of New Orleans is a modern multimodal gateway for global commerce and an in-demand cruise port —delivering seamless, integrated logistics solutions between river, rail and road. Port NOLA is a diverse deepwater port uniquely located on the Mississippi River near the Gulf of Mexico -- with access to 30-plus major inland hubs such as Memphis, Chicago and Canada via 14,500 miles of waterways, 6 Class I railroads and interstate roadways. The 2018 acquisition of New Orleans Public Belt Railroad, a Class III connecting railroad, strengthens Port NOLA's position as an integrated hub and supports the Port's mission of driving regional economic prosperity.