Harbor Police Department Awards Medal of Merit to 7 Officers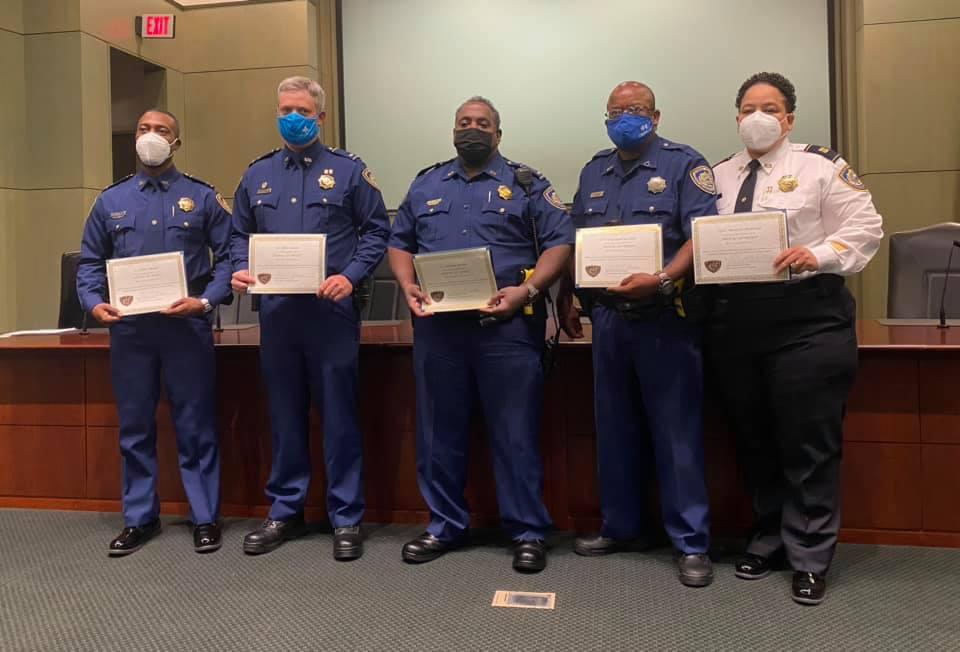 Seven Harbor Police Department officers and supervisors were presented with a Class B Medal of Merit during an honoree ceremony Oct. 6, 2021. HPD presented these awards for courageous actions and bringing an incident to a successful conclusion during an active shooter situation that took place on July 23, 2021.
A description of the incident that occurred:
" At 7:10am, HPD received a call of a shooting incident at 4325 France Road. Upon arrival, officers met the victim who identified himself as an employee of Trinity Yachts and was conducting a check of the fence line at which time he observed two individuals who were apparently trespassing. When he questioned the individuals, one of the individuals shot him in the leg with a shotgun. As he left to get help, he observed the suspects move back toward the property.
As officers arrived, they learned the suspect was still on the property and was obviously armed and dangerous. Lt. Ferbos, Officer Gordon and Officer Helire immediately cleared people from the exterior of the buildings. Realizing that several people were still within the premises, officers notified Headquarters that this was now a possible active shooter situation. Capt. Montroll, Lt. Smith, Lt. C. Turner all responded to the scene. Cpl. Joseph Cook was off-duty and learned of the emergency and also responded to the scene.
Lt. C. Turner and Lt. C. Smith then entered the building where employees were located and escorted them to safety. Capt. Montroll then authorized a team to enter the remaining area to search for the armed suspect. Other officers were assigned to the perimeter. As HPD officers began their methodical search of the premises, they apparently forced the suspect to flee through a hole in the fence. As the suspect crawled through the fence, he was immediately apprehended by Officer Gordon. Capt. Montroll arrived to assist with the apprehension. The shotgun was located nearby. There were no injuries to the suspect or the officers. It is believed the other suspect fled prior to the arrival of police."
The mission of the Harbor Police Department is to contribute to the homeland defense by ensuring the safe, secure and efficient flow of cargo and cruise passengers; and a safe, secure working environment for Port tenants, workers and visitors throughout the jurisdiction of the Port of New Orleans by providing proactive law enforcement services, patrols, anti-terrorism efforts and investigative services in a professional, courteous and community-oriented manner.
If you are interesting in joining this team, the Harbor Police Department is actively recruiting. To learn more visit: www.portnola.com/info/harbor-police-security