Scholarship First's priorities of agriculture, biomedicine, coast, defense and energy converge in Louisiana's ports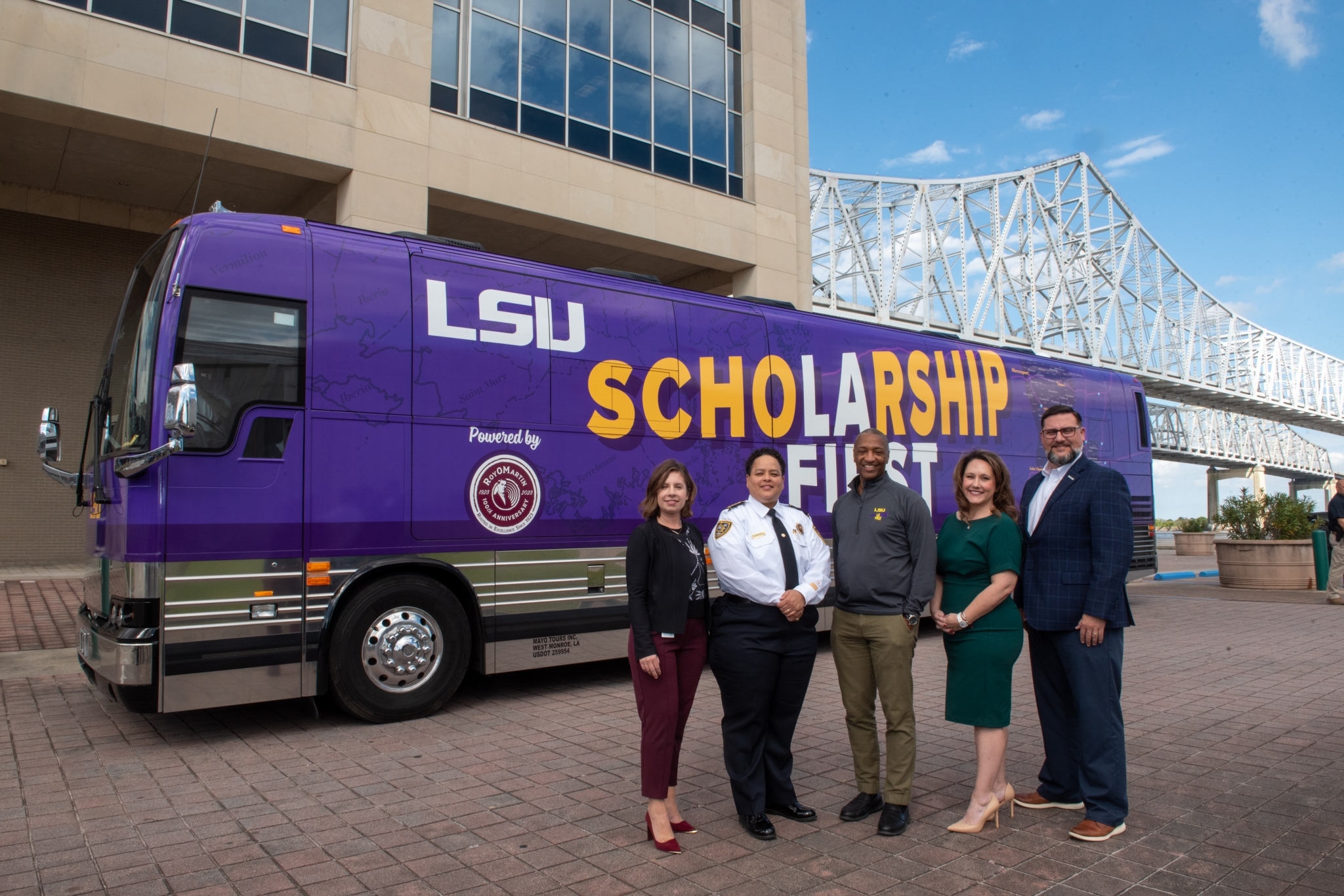 LSU Media Relations
Abbi Rocha Laymoun
817-938-6102
abbirocha@lsu.edu
Baton Rouge -- March 16, 2023 - Today, LSU and the largest ports in Louisiana announced a partnership to develop cybersecurity talent and technology for critical infrastructure. The collaborative effort connects the university's growing strengths in cybersecurity to the ports' pivotal role in the global supply chain and in securing food, energy, goods and materials for the nation and world.

The agreement between LSU and its port partners outlines opportunities for students and faculty to work with the ports to solve ongoing and emerging cyber challenges. It includes the potential development of cybersecurity testbeds, which are controllable cyber environments for experiments, and joint research to protect port systems as well as broadened collaboration with state and federal security and law enforcement agencies. Primarily, the partnership unites university and port assets to support homegrown cyber talent development for Louisiana.
"Like our students and research expertise, Louisiana's port system impacts every corner of the state and has national and global reach," said LSU President William F. Tate IV. "The Scholarship First Agenda elevates domains that meet citizens' most pressing needs and define Louisiana's role in the world. These areas: agriculture, biomedicine, coast, defense—including cybersecurity—and energy all converge in Louisiana's ports. Our designation last year by the National Security Agency, or NSA, as a Center of Academic Excellence in Cyber Operations, or CAE-CO, positions us as one of the best and most technical cybersecurity schools in the country, and we're now connecting our talented students and experts with our friends here at Louisiana's ports to tackle cybersecurity and critical infrastructure challenges across Louisiana."
The five partner ports include Port Fourchon on the Gulf of Mexico and four ports along the Mississippi River—Port of Greater Baton Rouge, Port of New Orleans, Port of South Louisiana and St. Bernard Port—which comprise the largest port complex in the world. Louisiana ports carry one-fourth of all waterborne commerce in the United States. Port Fourchon services nearly 100 percent of the Gulf of Mexico's deepwater energy production and secures nearly one-sixth of the country's oil supply. Statewide, one in every five jobs are reliant on Louisiana's ports, which the Ports Association of Louisiana confidently describes as "the industry that drives all others."
"Louisiana's maritime assets create jobs and connect our state to global markets, and the Port of New Orleans is proud to partner with LSU and all Louisiana's deepwater ports to raise the cybersecurity bar to ensure the highest levels of protection of our critical port infrastructure — now and into the future," said Brandy D. Christian, president and CEO of the Port of New Orleans, Louisiana's only international container port and cruise passenger hub.
"Protecting critical infrastructure at the Port of New Orleans is our top priority," said Harbor Police Chief Melanie Montroll. "This partnership will advance Harbor Police's existing cybersecurity strategy to protect against the current threat landscape while working to address evolving security needs within our industry."
"We appreciate the opportunity to be included in such an important initiative as this one. Our agency has a rich history as a leader in cybersecurity related affairs, as do the other ports we are joined with today for this announcement," said Chett Chiasson, executive director, Greater Lafourche Port Commission. "We look forward to assisting with this worthwhile endeavor moving forward because we understand how vital cybersecurity is, for not only our region, but our nation."
"The commerce that happens along the Lower Mississippi River at the Port of South Louisiana is intertwined with the national security of the United States," said Paul Matthews, CEO of Port of South Louisiana, Louisiana's largest tonnage port and America's leading grain exporter. "This partnership with LSU and our sister ports will ensure that our state's infrastructure and assets are protected in this ever-evolving cybersecurity landscape."
"The Port of St. Bernard averages annually over 10 million tons of cargo through our four marine terminals. Given our unique position as a primary bulk handler of everything from metals for advanced manufacturing to fertilizer for our national and state food producers as well as the only place on the Lower Mississippi with a deepwater slip, we fully recognize the importance of cybersecurity and protecting these assets," said Drew Heaphy, executive director of St. Bernard Port. "We appreciate the opportunity to participate and look forward to working closely with LSU on talent development and retention, and projects critical to our operations."
"The Port of Greater Baton Rouge's strategic location on the Mississippi River enables us to handle a diverse range of cargoes critical to the United States' agriculture, energy, manufacturing and food production industries. As one of the country's top ports in total tonnage, we pride ourselves in our ability to adapt to emerging needs," said Jay Hardman, executive director of the Port of Greater Baton Rouge. "From our docks, we have direct lines of sight to both the Capitol and LSU's campus, so we are well-positioned and excited to work with this group on cybersecurity challenges and talent development."
The Memorandum of Understanding, or MOU, signed by LSU and the ports establishes the university as the ports' academic research partner. It underscores the importance of strengthening Louisiana's cybersecurity expertise by exposing students to real-world cyber challenges. Additionally, the partnership enables LSU and the ports to engage new federal and industry research partners in defense, homeland security, intelligence and related sectors. Finally, LSU's recently announced establishment of student-run Security Operations Centers, or SOCs, on their Baton Rouge and Shreveport campuses, positions the university as a valuable threat intelligence and incident response partner with the ports and the state's cyber emergency response functions.
The partner ports are nationally important critical infrastructure assets, reflected in the scale of their operations:
The Port of New Orleans is the only international container port in Louisiana, and the 6th largest cruise port. It's a modern multimodal gateway connecting the inland U.S. and Canada to markets around the world by river, rail and road.
Port Fourchon is home to over 250 companies, services nearly 100 percent of the Gulf of Mexico's deepwater energy production, handles significant volumes of domestic and foreign oil, and is connected to 50 percent of the US' refining capacity, ultimately furnishing the country with approximately 16 percent of its entire oil supply.
The Port of South Louisiana is the second largest tonnage port in the Western Hemisphere, the largest tonnage port in Louisiana, and the nation's grain leader with over 60 percent of the US' grain exported as well as 100 million tons of petrochemical products exported annually.
St. Bernard Port is home to the only deep draft slip on the lower Mississippi River, handles nearly 10 million tons of bulk cargo in critical materials, and the port and its tenants employ nearly 20 percent of the entire parish.
The Port of Greater Baton Rouge is ranked 8th in total tonnage nationally and 65th in the world and handles a diverse range of essential commodities including asphalt, coal, coffee, forest products, biomass, chemicals, oats, pipes, steel and sugar.
The port partners work closely with state and federal agencies on cyber-related efforts. In 2022, the Port of New Orleans was awarded $514,964 in Port Security Grant funding from the Federal Emergency Management Agency to upgrade technology at the Harbor Police Department's Maritime Security Operations Center, which provides surveillance and communications equipment necessary for operational coordination and critical information-sharing with the U.S. Coast Guard and other public safety agencies. LSU and the ports will collaborate on future related cybersecurity funding initiatives.
In 2022, LSU was only the 22nd university nationally to be named a Center of Academic Excellence in Cyber Operations by the NSA. Federal partners of the NSA National Centers of Academic Excellence program include the Cybersecurity and Infrastructure Security Agency, the Federal Bureau of Investigation, the National Institute of Standards and Technology, the National Initiative on Cybersecurity Education, the National Science Foundation, the Department of Defense Office of the Chief Information Officer and U.S. Cyber Command.
Also of Interest