Port of New Orleans and New Orleans Public Belt Railroad Boards Elect Tara C. Hernandez Chair, Gov. Edwards Appoints Joseph F. Toomy to the Board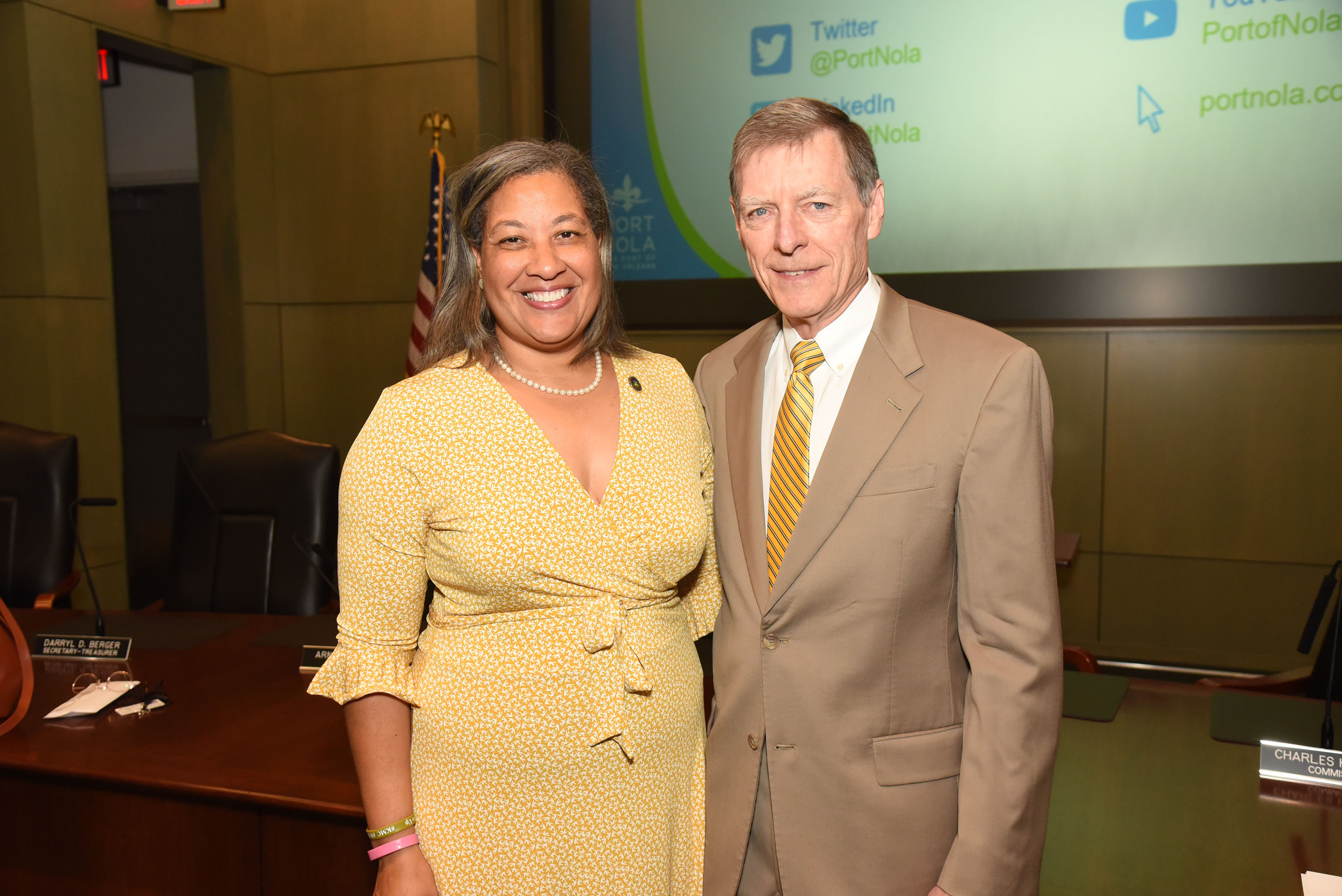 The Board of Commissioners of the Port of New Orleans (Port NOLA) selected new officers with the election of Tara C. Hernandez as Chair, Darryl D. Berger as Vice Chairman and William H. Langenstein, III, as Secretary-Treasurer during the Sept. 26 monthly Board meeting. Previously, at the Aug. 22 meeting, Joseph F. Toomy was sworn in after being appointed to the Board of Commissioners by Gov. John Bel Edwards.
With the Port's acquisition of the New Orleans Public Belt Railroad (NOPB) effective Feb. 1, 2018, Port Commissioners also serve as Directors of the NOPB Board. Hernandez will serve as Chair of NOPB's Board of Directors, Berger as Vice Chairman, Langenstein as Secretary-Treasurer and Toomy will serve as a Director.
Hernandez joined the Board in July 2016 when she was appointed by Gov. John Bel Edwards. She succeeds Arnold B. Baker whose term as Chairman expired this month. Baker will continue to serve on the Board as a commissioner until his five-year term ends in April 2020.
"I would like to thank Commissioner Baker for his service and leadership on this Board, and I am honored to take the baton as Chair," said Hernandez. "I look forward to continuing to work with my fellow commissioners, Port leadership and our stakeholders as we take bold, strategic action to create opportunities on and off Port property andhelp drive a secure, sustainable future for our jurisdiction and the state of Louisiana."
Toomy will serve a five-year term succeeding Laney J. Chouest as one of two Jefferson Parish representatives on the seven-member regional board. He previously served on the Board of Commissioners from 2009 to 2014 and served as chairman in 2013. A veteran lawmaker, Toomy represented Dist. 85 in the Louisiana State Legislature from 1984 until 2008. During his legislative tenure, he served as chairman of the Judiciary Committee from 1992 until 2008 and vice chairman of Municipal, Parochial and Cultural Affairs from 1990 to 1992.
"My personal experiences with the maritime community as well as my service as a state representative has given me a keen awareness of the business and economic interests regarding the Port of New Orleans," said Toomy. "I am humbled to have the honor to serve on the Board of Commissioners for the Port of New Orleans for a second time. I look forward to growing business opportunities and helping to shape economic development in the region."
Both Hernandez and Toomy bring a wealth of experience to the Boards and are respected leaders within the Greater New Orleans community.
Hernandez is President of New Orleans-based JCH Properties+, a boutique urban real estate development firm that specializes in the conversion of underutilized real estate into residential, commercial and mixed-use redevelopment projects.
Hernandez is the past chair of the Board of Directors for Greater New Orleans Inc., the region's foremost economic development agency. She also serves on the Executive Board of the New Orleans Jazz and Heritage Festival Foundation and is a member of the Ochsner Health Foundation Board.
Hernandez was Chair of the Urban Land Institute's National Hines Competition Jury and served on the Executive Board of the Idea Village. She has received local awards from the Young Leadership Council of New Orleans and New Orleans Business Alliance.
Toomy worked as an insurance broker from 2000 until 2016, and also served in several administrative capacities with Delgado Community College beginning in 1981 and most recently served as vice chancellor for administrative affairs from 1992 until 2000. He also recently served as a member of the Algiers Development District Board from 2014 to 2018 and as the chairman of the Gretna Redevelopment Committee from 2017 to 2018.
A long-time resident of Gretna, Louisiana, Toomy earned his Bachelor's degree in economics from Tulane University in 1971 and a Master of Business Administration from Tulane in 1973. He began his political career as a delegate to the 1973 Louisiana Constitutional Convention, before being elected to the Jefferson Parish School Board in 1974 – serving as president in 1977.
Toomy is extensively involved in community and civic activities, having served as the president of the Friends of the Louisiana State Fire Museum and the David Crockett Volunteer Fire Department, of which he is a lifetime member, as well as the Jefferson Historical Society. He is also a member of PACE Greater New Orleans Finance Committee and the Gretna Historical Society.
The Alliance for Good Government, Raintree Children & Family Services, Louisiana Municipal Association and Louisiana State Fireman's Association each honored Toomy as Legislator of the Year at varying times.
The Port of New Orleans Board of Commissioners consists of seven members. They are unsalaried and serve five-year staggered terms. The Governor of Louisiana appoints members from a list of three nominations submitted by local civic, labor, education and maritime groups. The Board reflects the Port's three-parish jurisdiction, with two members from Jefferson, four from Orleans, and one from St. Bernard. Commissioners Toomy and Jack C. Jensen Jr. represent Jefferson Parish; Chair Hernandez, Vice Chairman Berger, Secretary-Treasurer Langenstein and Commissioner Baker represent Orleans Parish; and Commissioner Charles H. Ponstein represents St. Bernard Parish.
Published: September 27, 2019