River Cruises Resume Sailing From Port NOLA With Enhanced COVID Protocols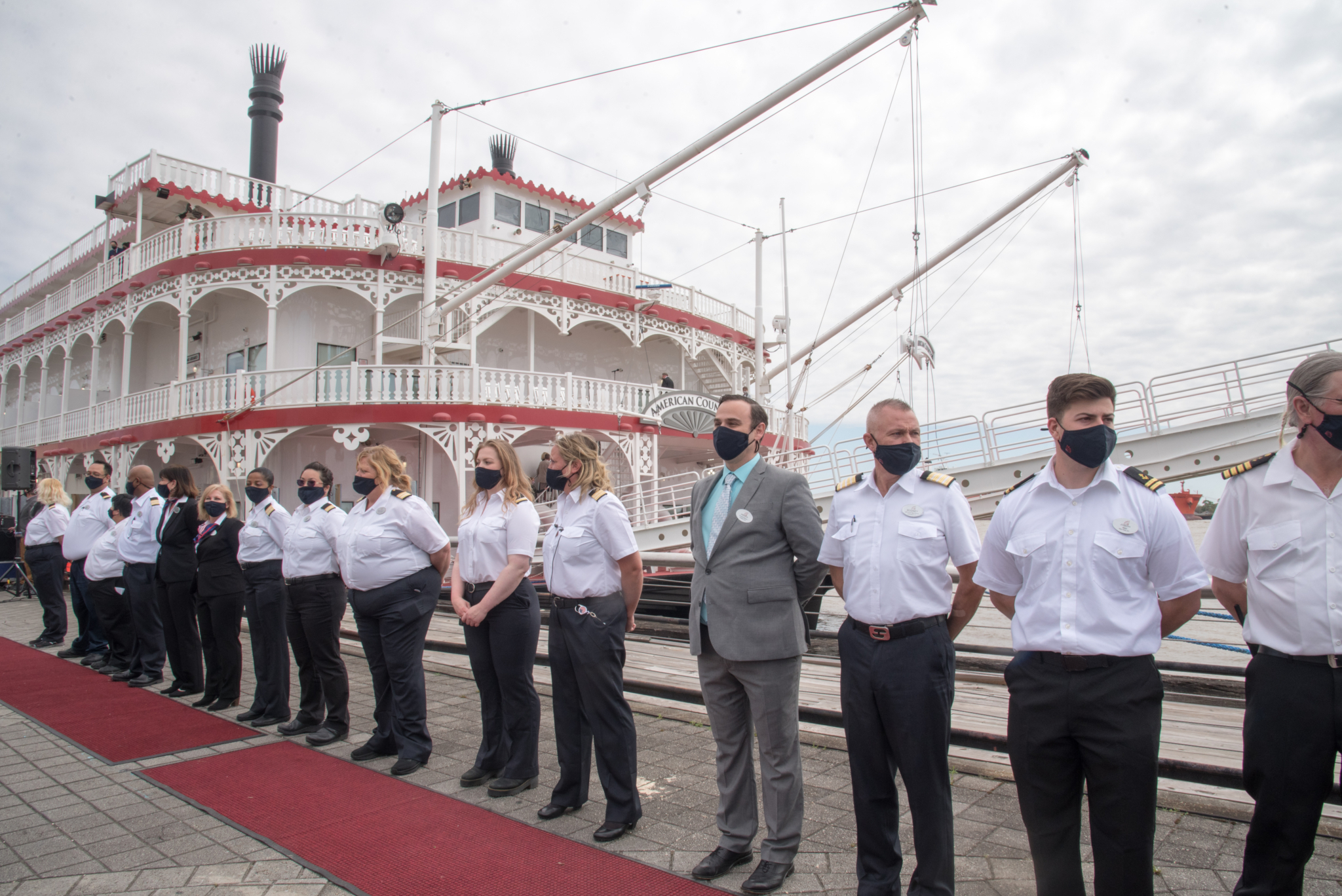 River cruise sailings from American Cruise Lines and American Queen Steamboat Company have resumed from the Port of New Orleans (Port NOLA) with reduced capacity and strict COVID-19 protocols beyond federal recommendations.
The American Queen Steamboat Company's brand new American Countess was christened and began her maiden voyage from Port NOLA on March 21, 2021. American Cruise Lines introduced the American Jazz on March 21, 2021 as well. American Cruise Lines has been introducing modern riverboats to the domestic river cruise market every year. In August 2021, they will introduce the American Melody on the Mississippi River. More are being constructed and will debut in 2022 and beyond.
These river cruise vessels are well under the 250 people threshold that the CDC mandates for their protocols, and both current cruise line operators will also go above and beyond the CDC's recommendations. Both cruise lines will require a negative COVID-19 test result for all guests and crew members boarding its ships.
"Port NOLA is excited to welcome back this important line of business and to have cruise guests return to our wharves," said Brandy D. Christian, President and CEO of Port NOLA. "In 2019, guests traveling along the Mississippi River on the six riverboats homeported in New Orleans set a modern-day record at 31,306 passenger movements. We are looking forward to this growing market continuing to boom in the long-term beyond the pandemic."
Port NOLA also looks forward to welcoming Viking Cruise Lines to New Orleans in 2022. Viking's arrival on the Mississippi River underscores New Orleans' draw as a convenient cruise port and enduring tourism destination. With stops along the Mississippi River, Viking cruises also represent the future commitment to tourism and economic development for many communities in Louisiana.
"Our cruise line partners' continued commitment is a true testament to New Orleans enduring draw as a destination in itself where passengers can enjoy Louisiana's unique cultural attractions before or after they set sail from the Big Easy," said Christian.
Occupancy onboard is reduced to 75% during the COVID-19 return to service plan for American Cruise Lines, and American Queen Steamboat Company has also announced reduced guest capacity. There will be masks and social distancing required throughout the vessels on each line.
On American Queen Steamboat Company, COVID-19 vaccination will be required for all guests and crew for all sailings beginning July 1, 2021. On American Cruise Lines, guests are strongly encouraged to get a COVID-19 vaccine prior to travel. Guests with a vaccine still must comply with all the requirements of the COVID-19 safe operating protocol, including testing and mask-wearing.
A certified Medical Officer will be aboard each ship to conduct a brief pre-boarding health screening of each guest on American Cruise Lines' vessels. A licensed nurse will be on board and available throughout the voyage on American Queen Steamboat Company's vessels.
The river cruise vessels take great care to provide a carefully planned, personalized experience ashore. With small ship capacities, and even small excursion groups, shore excursions will also be able to continue in a safe and enjoyable manner.