Port of New Orleans Honors Top 10 Shippers and Ocean Carriers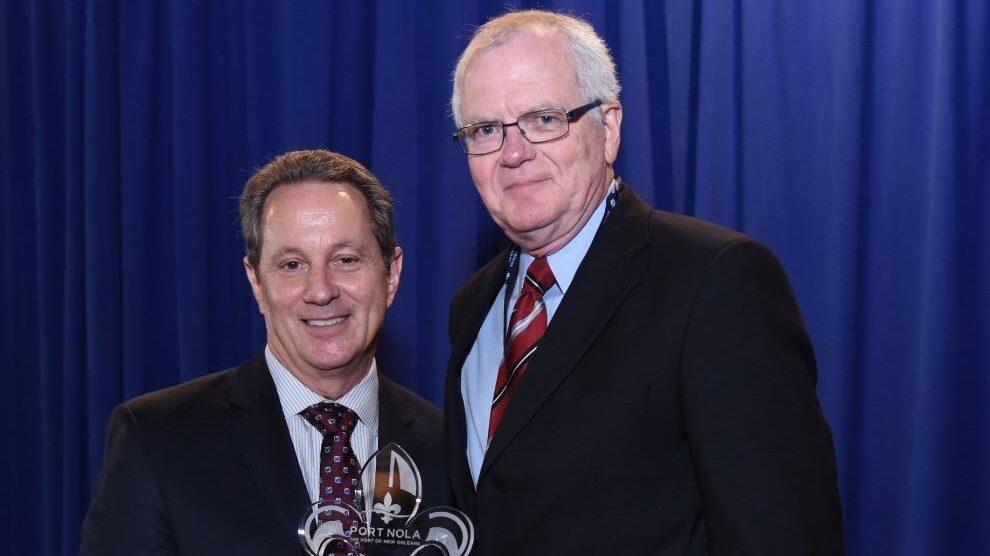 Joseph Bonney Receives Journalism Award of Excellence for Coverage of the Maritime Industry
NEW ORLEANS—April 24, 2018 The Port of New Orleans (Port NOLA) honored the top 10 shippers and ocean carriers that have contributed to Port NOLA's success over the years during the 10th anniversary of the Cargo Connections Conference (CCC) on Monday, April 9, 2018.
"The Port of New Orleans values our relationships with all of our customers," said Brandy D. Christian, Port of New Orleans President and CEO. "We are proud to recognize our partners who play vital roles in supporting Port NOLA's success as a global gateway."
The top 10 list was calculated based on the average overall tonnage of cargo moved through Port NOLA over the past three years.
Top 10 shippers include:
Top 10 ocean carriers include:
Port NOLA also presented Joseph Bonney, Senior Editor, the Journal of Commerce/JOC.com, with the Journalism Award of Excellence for Coverage of the Maritime Industry. Bonney was recognized for his outstanding work as a journalist for covering the Gulf region through an objective lens for many years.
"This was a nice surprise that I appreciate," said Bonney. "It's gratifying to receive this recognition from people I respect at a port I've covered through much of my career."
More than 250 registered for the 2018 CCC at The Chicory. The dynamic three-day conference focused on the efficient transportation of energy products, steel, and other raw materials, containerized cargo and more. The CCC is a highly interactive forum with several networking opportunities for shipping professionals to discuss trends and issues and learn from industry experts in America's most unique city. Formerly known as the Critical Commodities Conference, the CCC is attended by barge lines, logistics companies, port authorities and government agencies, producers, railroads, shippers, shipping lines, terminal operators, transloaders and warehousers, trucking lines, traders and more.
The Port of New Orleans is a deep-draft multipurpose port at the center of the world's busiest port system — Louisiana's Lower Mississippi River. Connected to major inland markets and Canada via 14,500 miles of waterways, six Class I railroads and the interstate highway system, Port NOLA is the ideal gateway for containers and breakbulk cargo, as well as passenger cruises. A growing network of ocean carrier services, along with services like container-on- barge, make Port NOLA the superior logistics solution. On February 1, 2018, Port NOLA acquired the New Orleans Public Belt Railroad, a Class III switching railroad with the primary mission of serving the Port, our Class I rail partners and local industry.