Port of New Orleans Salutes Harbor Police During National Police Week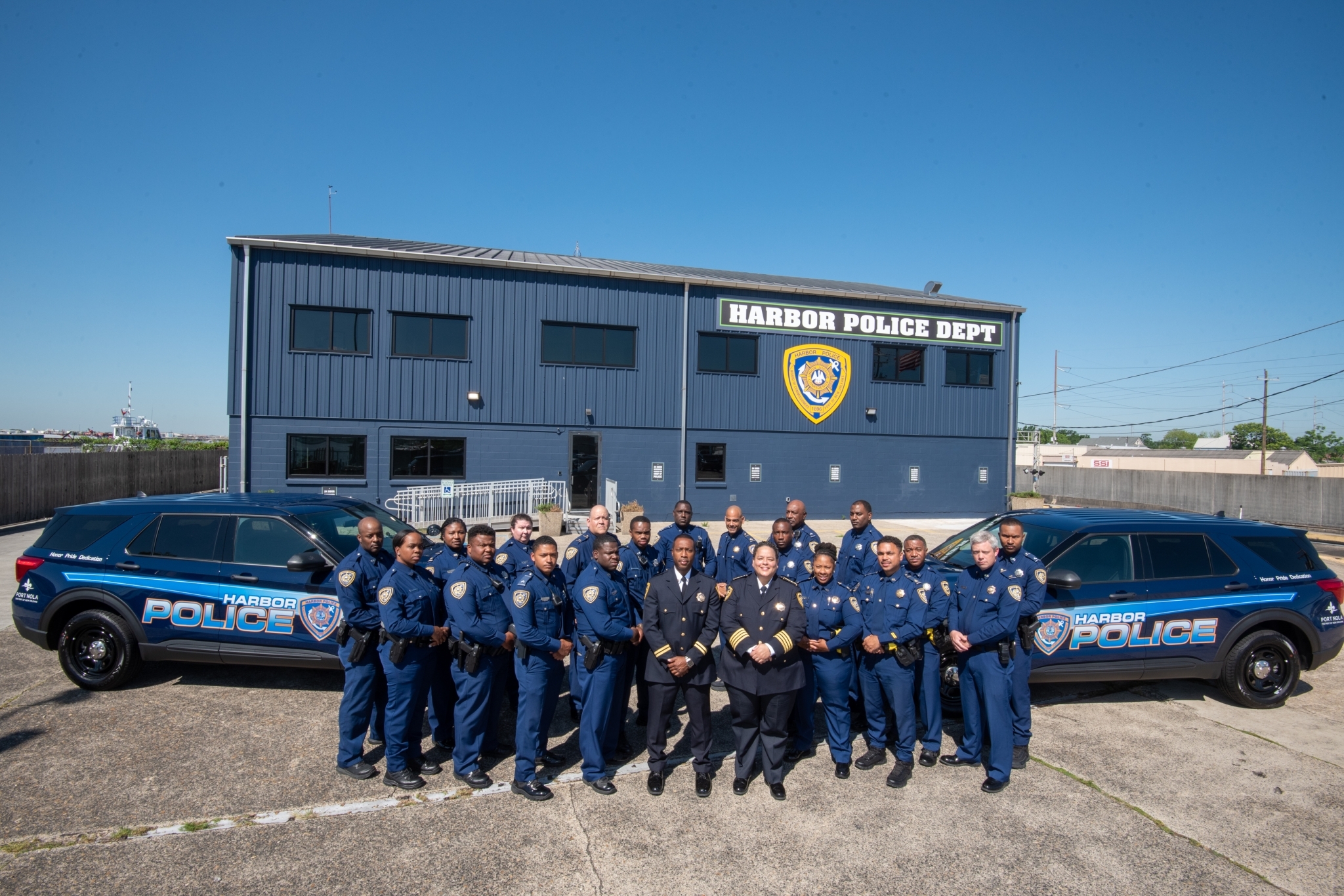 NEW ORLEANS — May 16, 2023 - The Port of New Orleans celebrates the Harbor Police Department (HPD) during National Police Week from May 14 – 21, 2023 to honor the dedicated officers who serve the uniquely qualified maritime law enforcement agency.
"We thank the men and women of the Harbor Police Department who dedicate their careers to protecting critical infrastructure and the community at large," said Brandy D. Christian, Port NOLA CEO & President and CEO of the New Orleans Public Belt. "We salute them for their bravery and commitment to the Port of New Orleans global gateway."
HPD kicked off the week with an integrated marketing campaign that aims to support the department's recruitment efforts and sheds light on HPD's unique law enforcement experience. The campaign includes a new website, increased social media engagement, billboards around the metro area, and a new recruitment video that highlights HPD's specialized land and water divisions. To watch the new HPD video click here, visit the new website at HPDnola.com, and find HPD on social media at Facebook, Twitter, and LinkedIn.
"The men and women of the Harbor Police Department demonstrate excellence each and every day to ensure that the Port of New Orleans, one of the busiest ports, is one of the safest ports," said Chief Melanie Montroll, Harbor Police Department. "I couldn't be prouder of our dedicated force. National Police Week gives us the opportunity to celebrate our officers while also educating the public about our mission."
Officers who join HPD become part of a specialized law enforcement agency that contributes to homeland defense by ensuring the safe, secure, and efficient flow of cargo and cruises, as well as a safe, secure environment for Port tenants, workers, community and visitors throughout Port NOLA's three-parish jurisdiction (Jefferson, Orleans and St. Bernard).
National Police Week recognition also highlights the second annual Global Maritime Ministries "Thank an Officer" event on Wednesday, May 17, from 8:00 a.m. - 10:00 a.m. at the Global Maritime Ministries Center at 3635 Tchoupitoulas Street. This event is an opportunity for members of the industry and the local community to show their appreciation for the work HPD does every day to protect and serve the riverfront and the region.
Port NOLA's National Police Week observation is part of the Port's annual Maritime Month celebration, which shines a special light on the local maritime workforce and raises public awareness about the value of the working river to the region and state of Louisiana. To learn more about Port NOLA Maritime Month, click here.