Port of New Orleans Swears In New Harbor Police Chief Melanie Montroll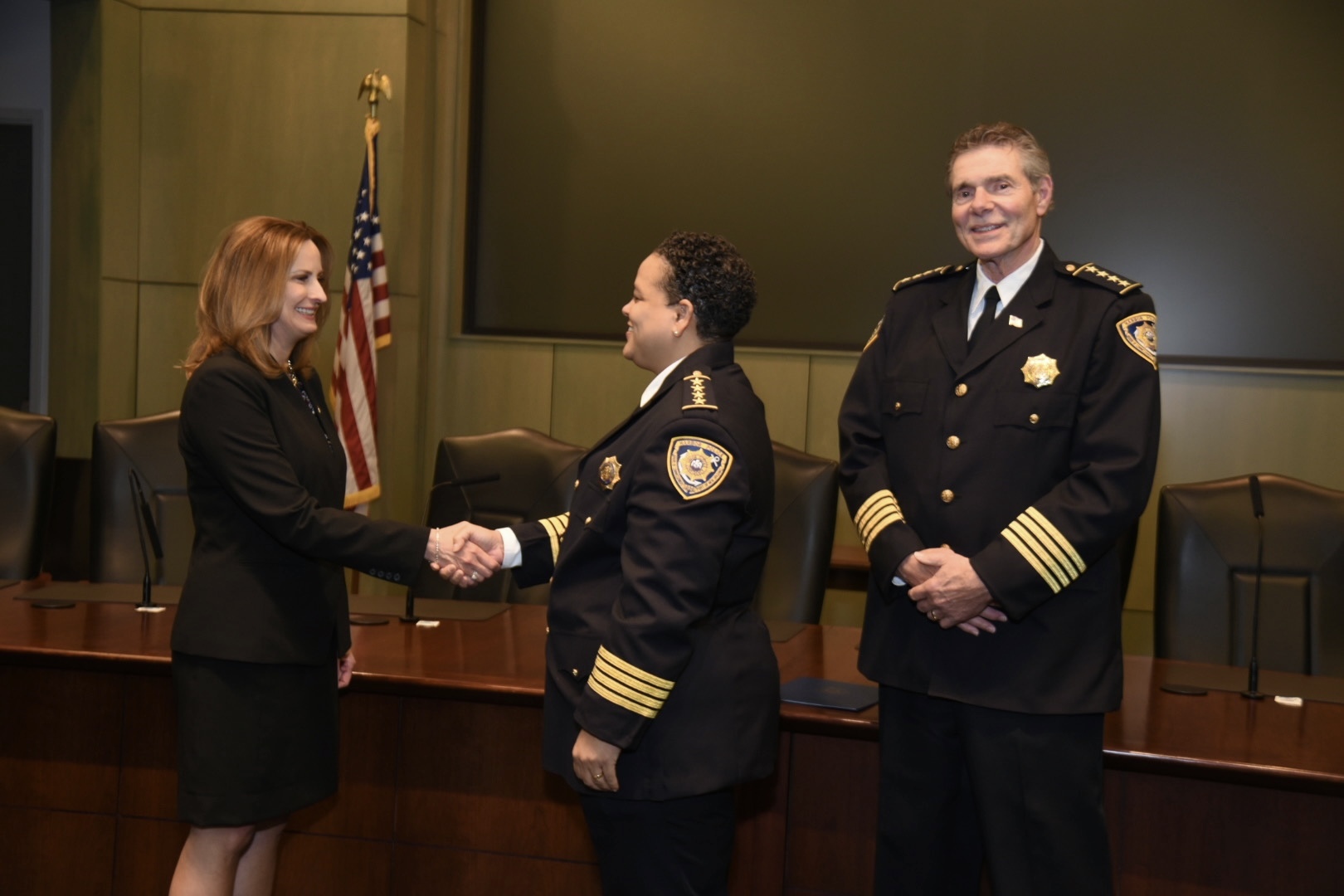 NEW ORLEANS — Today, the Port of New Orleans (Port NOLA) swore in Captain Melanie Montroll as the new Chief of its Harbor Police Department (HPD), becoming the department's first woman and first African American woman Chief of Police. Montroll succeeds Chief Robert Hecker, who retires after having led HPD for more than 26 years.
Montroll was sworn in today by Brandy D. Christian, President and CEO of the Port of New Orleans and CEO of the New Orleans Public Belt Railroad. Congressman Troy A. Carter Sr. was present to provide congratulatory remarks and a Congressional proclamation.
"Chief Montroll is an inspiring member of our community who has dedicated her life to public service," said Congressman Troy A. Carter Sr. "It is not always easy being the 'first' of anything, but Chief Montroll navigates the challenges that comes her way with resolve and grace, and ultimately achieves greatness. I congratulate her on this well-deserved and historic achievement and am proud to be with her in person to celebrate today."
Governor Edwards sent his congratulations as well.
"The Port of New Orleans provides the critical infrastructure for the movement of goods to connect Louisiana with the global economy, and the Harbor Police Department ensures those operations happen safely and efficiently," said Governor John Bel Edwards. "I am thrilled to honor this Louisiana native and the first female as the new Chief of Harbor Police. Chief Melanie Montroll has the dedication, experience and leadership skills to protect the Port and the people who work and visit Port NOLA's jurisdiction, as we all work together to support economic growth and prosperity for Louisiana."
"This is a proud moment for the Port of New Orleans and for the Harbor Police Department – to be able to swear in one of our own who has come up in the ranks because of her leadership, integrity, courage and dedication to this agency, and to the law enforcement profession," said Christian. "This historic appointment marks the first woman, and the first African American woman, to serve as Chief of HPD in 122 years. There is no one more qualified to take this force to new levels of excellence providing safety and homeland security for one of the nation's busiest waterways."

Montroll has served as HPD's Assistant Chief since 2017. She is a second-generation police officer, following in the footsteps of her father who also served with Port NOLA HPD. Over the course of her 21 year career with HPD, Montroll's responsibilities have included Captain of all Platoons, Commander of the Criminal Investigations and Internal Affairs Division, Director of Training, Academy Director and Commander of the Marine Division and day-to-day operations. Since her graduation from the Harbor Police Department Police Academy, she has been regularly recognized for her leadership skills and steadily progressed through the ranks, becoming Corporal in 2003, Sergeant in 2008, and Lieutenant in 2015.
Montroll's top priorities as Chief will be recruitment and retention of the best qualified candidates who share in HPD's mission to protect and serve the maritime and community interests within the Port's three-parish jurisdiction of Jefferson, Orleans and St. Bernard Parish. She will also continue HPD's commitment to diversity, community engagement and homeland security, as well as implementing the latest technology and training.
"It is an honor and privilege to be named Chief of the Harbor Police Department as we continue to ensure that the Port of New Orleans one of the busiest ports is one of the safest ports," said Chief Montroll. "I am humbled and grateful for the opportunity to lead this already outstanding group of HPD officers, and I hope to also be an inspiration for little girls of color so that when they see me in my line of duty, they can see themselves."
Montroll is a member of the Louisiana Association of Chiefs of Police, International Association of Chiefs of Police and the National Organizations of Black Law Enforcement Executives, and is a graduate of the FBI Leeda Leadership Trilogy program. She is also a member of the New Orleans Regional Leadership Institute class of 2022. Montroll obtained her Post Master Instructor's certification from the Police Officer Standards and Training Council. She received her Boat Operator's certificate from the Federal Law Enforcement Training Center in Glynco, Georgia.
Montroll holds a Master of Business Administration from the University of New Orleans, a bachelor's degree in Business Administration, and a graduate of the School of Police Staff and Command at Northwestern University. She is a Louisiana native and lives in the greater New Orleans area with her wife and teenage son.
"I have observed Melanie's supervisory skills over the years and she has excelled at every level," said outgoing Chief of Harbor Police Robert Hecker. "I don't think I have ever seen anyone better prepared or qualified to take the reins of a police department, more specifically, our Harbor Police Department, than she."
Chief Hecker, who retires after leading HPD since 1995, began his career in law enforcement with the New Orleans Police Department.
"Over 26-plus years of leadership, Chief Hecker transformed the Harbor Police Department into a respected force known for its integrity, high standards, and service," said Christian. "Chief Hecker is a true legend and on behalf of the entire Port community, we congratulate him on a well-deserved retirement."
Throughout his law enforcement career, he has been presented three "Keys to the City," three Medal of Merit awards, 14 Letters of Commendation, a Supervisor of the Year award, and broad recognition for leading HPD's Hurricane Katrina Disaster efforts, including Gambit Weekly's 2005 New Orleanian of the Year. Hecker was most recently named Maritime Humanitarian of the Year in 2020 by Global Maritime Ministries.