Updated: St. Claude Avenue Bridge to Close May 10-23, 2018 for Necessary Repairs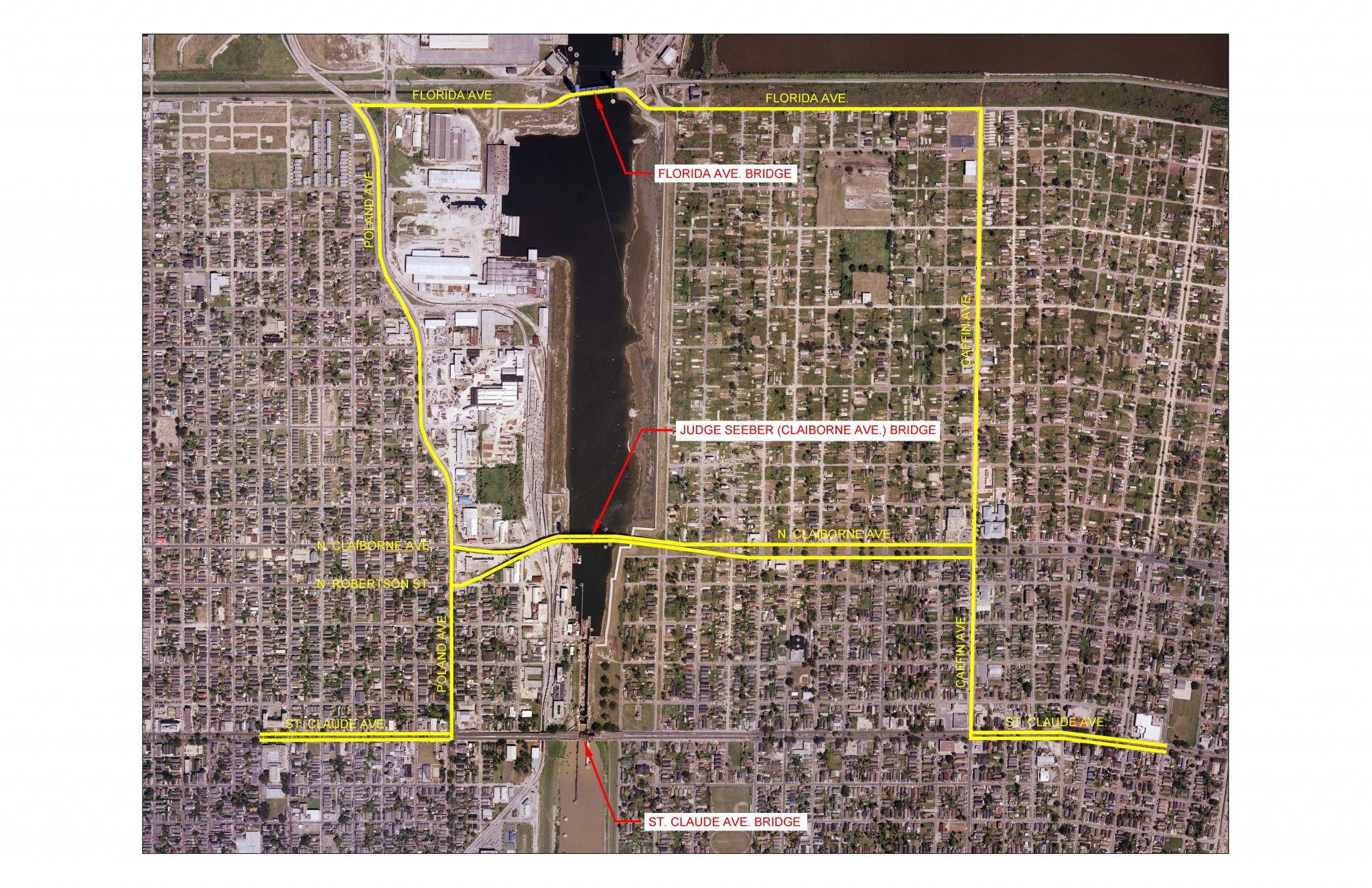 NEW ORLEANS—May 17, 2018—The St. Claude Avenue Bridge repair closure date has been extended to 7:00 a.m., Wednesday, May 23, 2018.
During the repair of the pin joint at the St. Claude Bridge, it was discovered that the bronze bushings inside the operating strut require replacement. This work will extend the overall project timeline by three (3) days, requiring a closure of the bridge until 7:00 a.m., Wednesday, May 23.
No vehicular, bicycle or pedestrian traffic will be able to cross over the St. Claude Avenue Bridge during the construction. Marine traffic will continue to pass normally. The alternate routes for vehicles to travel during the closure are Judge Seeber (Claiborne Avenue) and Florida Avenue Bridges. Cyclists and pedestrians can only use the Florida Avenue Bridge during the closure. The detour map is attached to this advisory.
The schedule was developed to minimize disruption for commuters during the workweek when the bridge is most heavily in use.
Motorists are encouraged to pay close attention when proximate to the work zone, obey the posted speed limits, work zone signs and allow extra time to reach their destinations safely.
We encourage people to visit our website to view timely updates about this project.
You can also follow us on our social media:

Port of New Orleans on Facebook here
Port NOLA on Twitter here
Port NOLA on Instagram here
Port of New Orleans on LinkedIn here
For more information about this project, please contact Jasmine J. Haralson, Community Engagement Manager at 504.528.3365 or haralsonj@portno.com.

The Port of New Orleans is a deep-draft multipurpose port at the center of the world's busiest port system — Louisiana's Lower Mississippi River. Connected to major inland markets and Canada via 14,500 miles of waterways, six Class I railroads and the interstate highway system, Port NOLA is the ideal gateway for containers and breakbulk cargo, as well as passenger cruises. A growing network of ocean carrier services, along with services like container-on- barge, make Port NOLA the superior logistics solution. On February 1, 2018, Port NOLA acquired the New Orleans Public Belt Railroad, a Class III switching railroad with the primary mission of serving the Port, its six Class I railroad partners and local industry.